Facts
Location: Scotland
Length: 73,4 km (45,6 miles)
Built: 1745
Width: 2 lanes
Surface: asphalt
Surface quality (out of 10): 8
Highest point: 637 m (2090 ft)
Operating times: open all year
via A939
Route: from Grantown-on-Spey to Braemar
A939 Road Description
The A939 road can be found in the heart of the Cairngorms National Park, in the Scottish Highlands. It also goes by the name of Lecht Road or the Old Military Road. Also, worth mentioning is the fact that this is possibly one of the best roads in Scotland and it includes some really steep sections. Wondering why? Read the road's description and see.
The road was built after the Jacobite rising of 1745, and its surface is asphalted. It will take you through Glenshee and Braemar, and it once was a significant military road. The person that built it was  William Caulfield, an officer in the British Army.
Driving the A939 road will take you in the middle of nowhere, where you will be surrounded by bare landscapes and endless views of the mountains with sheep and lambs grazing in the fields. The landscape features miles of stunning views and this road will give you the perfect opportunity to admire it. It will take you through twisty hair pin corners and elevation changes. This is the kind of scenery you would like to see while driving through the countryside of Scotland. Also, what's great about it is the fact that there's barely any traffic, so you will have enough time to enjoy sliding through the many twists and turns this road offers.
An old military road
Along the way, you will also climb a few passes, like the Dava Moor with an altitude of 321 m (1053 ft), Bridge of Brown 438 m (1436 ft), Lecht Ski Centre 637 m (2090 ft ) and Gairnshiel Summit 550 m (1836 ft).
This is an exciting road and drivers will rejoice the journey through the Wicklow Mountains. It's bumpy and has a lot of twists and turns.
From a technical point of view, note that the layout is fantastic and features beautiful curves mixed with some rollercoaster-like elevation changes that will make the trip even more exciting. The maximum elevation is 20%.
The A939 road is open all year, but there are times when it can be closed because of bad weather conditions and when the path is not cleared of snow. Overall, this is a great suggestion for driving enthusiasts as it has all the elements that make a road one that's worth riding.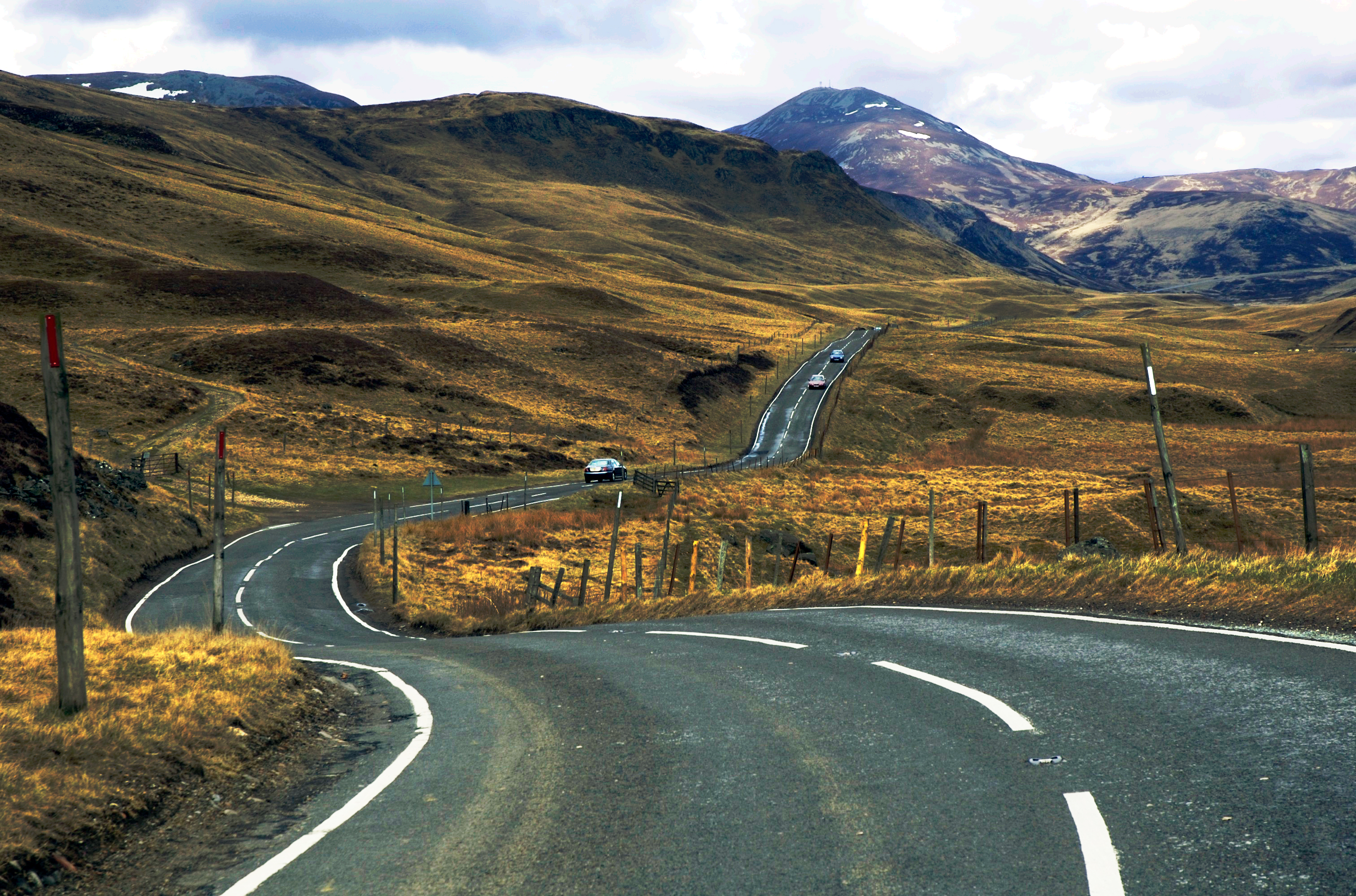 Photo sources: https://www.booking.com/articles/5-best-driving-roads-europe.en-gb.html, https://cairngorms.co.uk/discover-explore/enjoying-the-park/planning-a-visit/getting-here/, https://www.westend61.de/en/imageView/STSF01406/uk-scotland-highland-a939-highland-tourist-route, https://commons.wikimedia.org/wiki/File:Snow_gates_on_A939_-_geograph.org.uk_-_1548925.jpg
r