Facts
Location: Georgia
Length: 68,9 km
Built: 1978
Width: 2 narrow lanes
Surface: gravel
Surface quality (out of 10): 4
Highest point:  2,850 metres (9,350 ft)
Operating times: May to October
via Pshaveli-Abano-Omalo
Route: from Pshaveli to Omalo

Abano Pass Road Description
The Abano Pass, located in the Tusheti region of Georgia, is a high mountain pass.  As a result, because of the altitude, you can drive on one of the most dangerous roads to get there. Placed in the central part of the Great Caucasus Mountains, it reaches to an altitude of 2,850 metres (9,350 ft) above the sea level.
Moreover, this also is the highest drivable mountain pass in the Caucasus Mountains. You can only drive here using an off-road car. Since it's covered with gravel, when the weather conditions become harsh, the road results into an even more dangerous route. Because of that, the road is closed frequently.
The route to Abano Pass
The Abano pass road starts in Pshaveli and ends in Omalo. Even though it's not a very long route, the expected driving time can reach 12 hours. This pass connects the Kakheti region (in the south of Georgia) with the Tusheti region (located in the north).
Overall, this drive will be both adrenaline filled and enjoyable. The road is a challenging one, but the views are spectacular. Tusheti is one of the most pristine and remote mountain areas. It features many ravines and two main river valleys: Gometseri Alazani and Pirikiti Alazani.
Driving through a unique area
The largest village in the region is Omalo, and the Abano pass is the only access road that gets you there. From this village, there are three different directions going to three mountain ranges. The entrance to Tusheti is made through the  Chanchakhovani gorge, and the two other are Diklo-Shenako gorge and Pirikiti and Gometzari gorges. All the roads are accessible by car, but they get more and more difficult as the elevation rises. So one must drive carefully here. To that, also add the alpine climate, the mist and low visibility, and you'll understand that this road can be a really hazardous one.
Built in 1978, the road over the pass opens only during summer, from May until October. Nonetheless, it can close any time when the access is not cleared of snow. This can happen also during the warmer seasons. When reaching the Abano pass, you will see the mountains that form a border with Russia, Chechenya and Daghestan.
The road towards this pass features many thrilling twists and turns. You will get to high altitudes where you can admire the views from. Also, along the way, you can enjoy the beauty of this pristine area. In conclusion, it's a spectacular road, perfect for those that love an adrenaline-filled journey, yet a dangerous one. Even so, it requires some advanced driving skills and you have to be prepared for what this road brings at you. All the elements it features add up to the thrill and the difficulty. The mountain area, serpentines, high altitudes and the weather conditions make it an adrenaline filled ride, with challenges and satisfaction after overcoming them.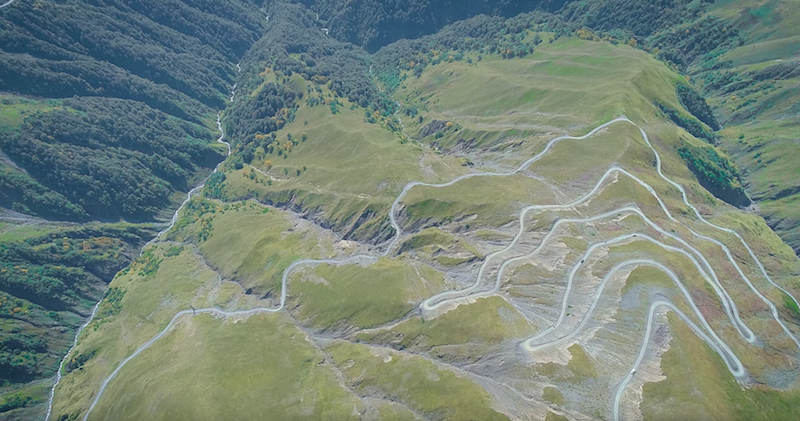 Photo sources: https://www.dangerousroads.org/eastern-europe/georgia/1895-abano-pass.html, https://www.adventurebikerider.com/abano-pass/, https://hydeparknow.uk/2018/10/12/the-abano-pass/
r