Facts
Location: Andoya, Norway
Length: 49,9 km
Wide: 5 m standard, 2 lanes
Surface: asphalt
Surface quality (out of 10): 9
Highest point: 700 m
Operating times: open all year
via Fv82
Route: from to Andenes to Bjørnskinn
Andøya Norway Tourist Route Description
In Andøya Norway, you will find one of the best national tourist routes to drive on. You will drive here between the open outer coastline and pointed mountain peaks. The road is winding and this increases the pleasure of the journey. In this place, the horizon will seem endless as it stretches all the way to Greenland.
The island of Andøya offers you the opportunity of wandering along the beautiful coast of Norway and its beaches. This is a trip that provides you with pure enjoyment due to the high-quality of this road and the amazing landscape it takes you through. The road follows a stretch of cultivated land combined with the side ocean and jagged peaks.
The Andøya Norway National Tourist Route is a 51-kilometer stretch, between Andenes and Åkneskrysset in the Vesterålen Archipelago. The route we suggest starts in Andenes and ends in Bjørnskinn. This archipelago is located about 300 km inside the Arctic circle. Even more, the natural landscape provides magnificent views of white sandy beaches and ragged mountain peaks.
Now, getting to the interesting part. The road features a smooth surface and curves that hug the side of the mountains. There aren't significant elevation drops or other changes as you drive along the coastline. Nonetheless, driving on this National Touristic Route in Norway offers you both a thrilling and enjoyable experience. The feeling of driving between the mountains and the beaches and the sea is second to none. Plus, there are around 50 km of pure enjoyment. So, you will have enough time to feel the pleasure of driving on such a road.
Sightseeing in the area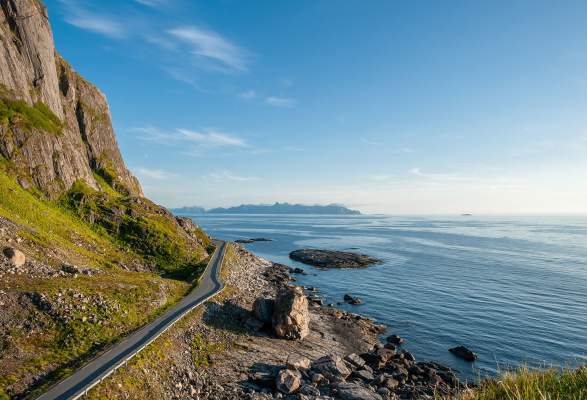 The Norwegian Sea shaped this region. As a result, the route runs along the west coast of Andøya Norway and the northernmost island of the archipelago. Moreover, the island features some of the largest marshes you will find in Norway: whales, seals, bird rocks, etc.
Driving here provides you with spectacular views. Also, you can stop at a viewing point to enjoy the fantastic scenery. Luckily, you will find many parking areas and places to stop by, sit and relax.
There are 18 tourist routes in Norway. However, each one has their own distinctive features. Overall, the Andøya Norway route combines the endless horizon, mountain peaks, beaches and a beautiful coast line with an even more impressive road.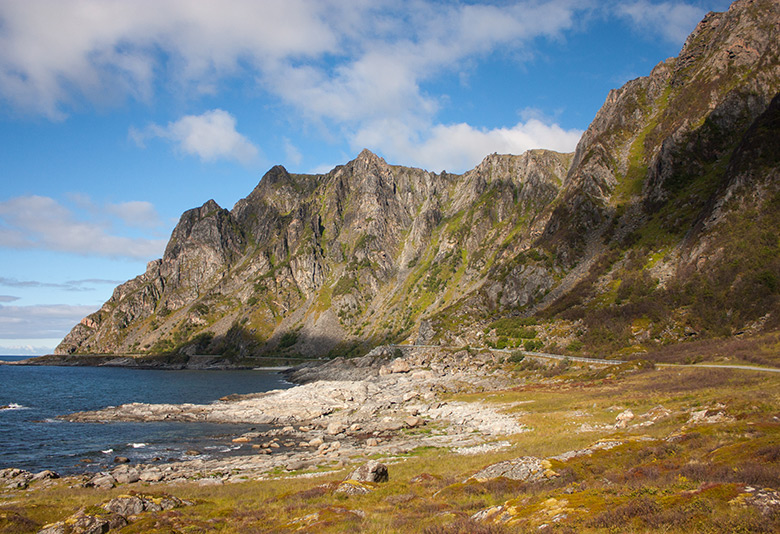 Photo sources: https://www.nasjonaleturistveger.no/en/routes/and%C3%B8ya, https://www.visitnorway.com/listings/around-and%C3%B8ya-on-bike/217573/, https://www.lifeinnorway.net/driving-the-andoya-tourist-route/, https://www.westend61.de/en/imageView/MALF00272/road-on-mountain-by-sea-at-andoya-norway
r