Facts
Location: Canada
Length: 341 km (212 miles)
Built: 1932
Width: 2 lanes
Surface: asphalt
Surface quality (out of 10): 9
Operating times: open all year
via Cabot Trail
Route: from Baddeck around the island and back to Baddeck
Cabot Trail Description
The  Cabot drive is a scenic roadway, located in northern Victoria County and Inverness County on Cape Breton Island, in Nova Scotia. It's one of the most scenic destinations, and the views won't disappoint. You will see stunning ocean vistas, old forests, rock scarred by glaciers, and the Cape Breton Highlands.
It's a long route, and it will take a few hours to complete the drive. If you want to enjoy the scenery, you should use at least an entire day for it. It completes a loop around the northern side of the island, and it's open all year long. Besides the landscape, here you can also enjoy the Gaelic and Arcadian cultures.
Moreover, the road is a pleasure to drive. Its asphalted surface is smooth, and it features many twists and turns, for you to have an entertaining drive. You will drive around Nova Scotia Cape Breton's greater part, on a road with a winding design that also provides panoramic views. It's perfect for a fun ride. If you want to enjoy it fully, it pays to take it slow. There also are steep grades that go perfectly with the curves if you're into adrenaline-filled journeys. Passing along the steep drops will add some more thrill to this ride.
Scenery around Cabot Trail
This is one of those places where the green mountainous peaks meet the clear blue ocean water. It got its name from John Cabot, an explorer who landed in Atlantic Canada in 1497.
All in all, this is more than just a drive, it's an entire experience you have to enjoy. The Cabot road is a fun roadway to drive on with its curvy design made of thrilling twists. More than that, there are so many scenic overlooks to admire, and cultural heritage sites to explore. You can also do some whale watching or enjoy one of the many hiking trails. You can drive the Cabot Trail clockwise direction or counterclockwise. Either way, you will enjoy the same spectacular landscape made of mountains, coastal views, picturesque villages and cultural heritage sites. It's considered one of the most scenic destinations in the world, and you can make the best of it by taking a drive there.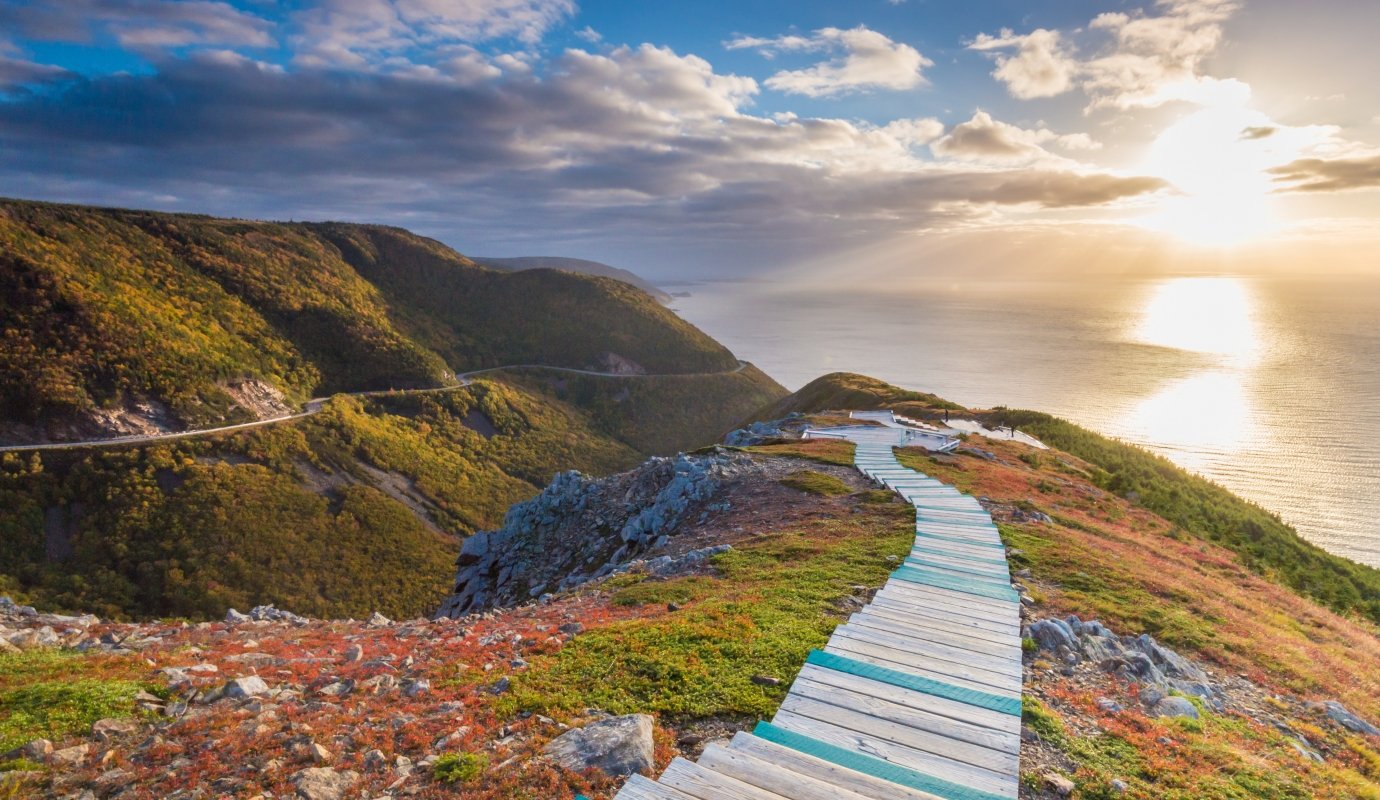 Photo sources:
https://www.ottsworld.com/blogs/cabot-trail-itinerary-one-day-cape-breton/
https://www.tripsavvy.com/driving-the-cabot-trail-2972640
https://bucketlistjourney.net/drive-nova-scotias-cabot-trail-great-places-stop/
https://www.cbisland.com/blog/which-way-is-the-best-way-to-travel-the-cabot-trail/
r