Facts
Location: France
Length: 77,6 km (48,2 miles)
Width: 2 lanes
Surface: asphalt
Surface quality (out of 10): 8
Highest point: 1,967 m (6,453 ft)
Operating times: closed during winter
via D925
Route: from Bourg-Saint-Maurice to Beaufort
Cormet de Roselend Road Description
Cormet de Roselend is a pass located in the Alps, in the department of Savoie in France. The scenic Route des Grandes Alpes traverses it, and it makes a great route to follow if you love driving in such spectacular places. The landscape is beautiful, no matter of the season. Plus, the road is an exciting one, with plenty of twists and turns to enjoy while driving. So, enthusiast drivers will rejoice trying out this route.
The pass is located at an elevation of 1,967 m (6,453 ft) above the sea level, and it closes during winter because of the weather conditions that make it hard to reach it. The road traversing Cormet de Roselend is called the D925 road. This asphalted road links Beaufort in the Beaufortain valley and Bourg-Saint-Maurice in the Tarentaise Valley. On your way, you will also come across Roselend Lake, a human-made lake that offers as well some beautiful views. The reservoir lake can be reached by Col de Méraillet (1605m) as well. The lake is also the reason why the pass stands out and many come here to see it. Combine it with the fantastic views of the Mont Blanc Mountains and the experience will be a memorable one, for sure.
The drive to the pass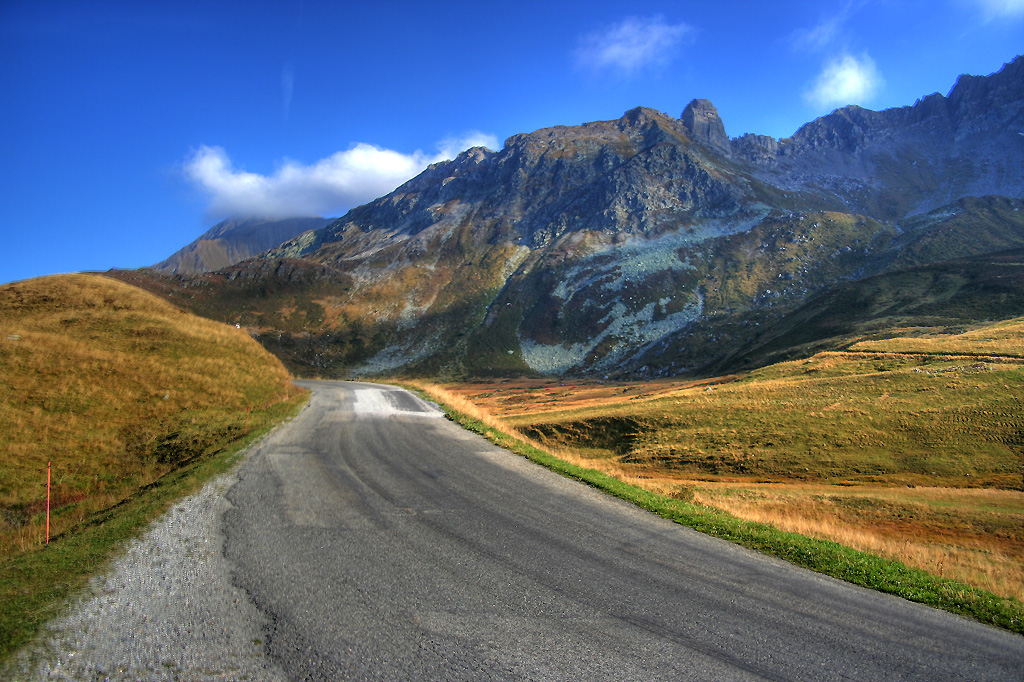 As for the road taking to Cormet de Roselend, it's exposed and sometimes unsecured. It features many twists and turns to give you an adrenaline rush. You will get to drive on many hairpins, all this while admiring the alpine landscape. So, for this reason and other this will be an excellent choice for a route to drive on.
There are two routes you can take to reach the Cormet de Roselend summit. Starting from Bourg Saint Maurice, the ascent is 19,35 km long, the elevation gain 1154 heightmeters and the average percentage 6 %. The average gradient is 6%. Although it starts steadily, after the first 5 km it gets to 8%, all this while passing through a sequence of 10 tight hairpins. The climb is a great one, and you will also be able to view the Mont Blanc mountains while passing by Vallée des Glaciers. Just imagine being here and driving on the 10 tight hairping, all while gaining altitude and seeing more and more of what the scenery has to offer. 
The other route starts from Beaufort. On this one, the drive is 20,32 km long, the elevation gain is 1227 heightmeters, while the average percentage is 6 %.
Both sides are equally challenging and typical for an extended Alpine climb. The differences between these two are small. Coming from Beaufort, there is a flattish terrain around the lake area, providing a respite after completing two-thirds of the climb. You can choose either one, depending on where you are coming from. Both are enjoyable and the alpine scenery makes it even more worthwhile. 
Photo sources: https://commons.wikimedia.org/wiki/File:D_925_vers_Cormet_de_Roselend_(Savoie).JPG, https://roads.porsche.com/content/en/routes/cormet-de-roselend, 
r