Facts
Location: Croatia
Length: 48.3 km
Width: 5 m, 2 lanes
Surface: asphalt
Surface quality (out of 10): 8
Operating times: throughout the year
via D102
Route: from Šmrika to Baška
The D102 Stara Baska Road
The D102 Stara Baska road is a very scenic drive in Krk, an island located in Croatia, in the northern Adriatic Sea. Like most roads in this country, it offers an enjoyable drive along the coast with many twists and turns that add more fun to the trip. While driving, you have the rocks on one side and the blue sea on the other side.
The road starts in Šmrika and takes you to Baška, providing drivers with a route of 48,3 km to drive on. As one would expect, it's a scenic drive and very pleasant to drive. The most spectacular section of the D102 Stara Baska road has the be the Krk Bridge. It's 1,430 m long and was built between 1976 and 1980. It's exposed to the winds, and there are times when it closes because of the strong guts of bora.
The drive
The journey is a smooth one due to the fact that the road was recently resurfaced. The asphalt is high-quality, so you won't have to worry about the bumps in the road. Moreover, there are many exciting twists and turns as you drive along the coast. Plus, going along the coast with nothing but a protective bumper that separates you from a free fall is always thrilling.
The D102 Stara Baska road is the main route on the Krk island. Driving here is worth it because of the journey, but also due to the beauty of this island. Stara Baska, the final destination of this trip, is a unique place due to its specific karst relief. Because of the same relief, the road becomes narrower on some sections.
Also, since this is a popular destination, during summer the road is crowded with cars parked on the sides of this path. This happens before entering the village, especially where there are many beaches that are only reachable by foot.
Stara Baska also offers a beautiful panoramic view of the Cres and Rab islands. It's an excellent choice for a vacation, especially if you enjoy coastal drives. The road taking you there is a fun and exciting one featuring many twists and turns along the coast. The views are amazing and make the whole trip much more enjoyable.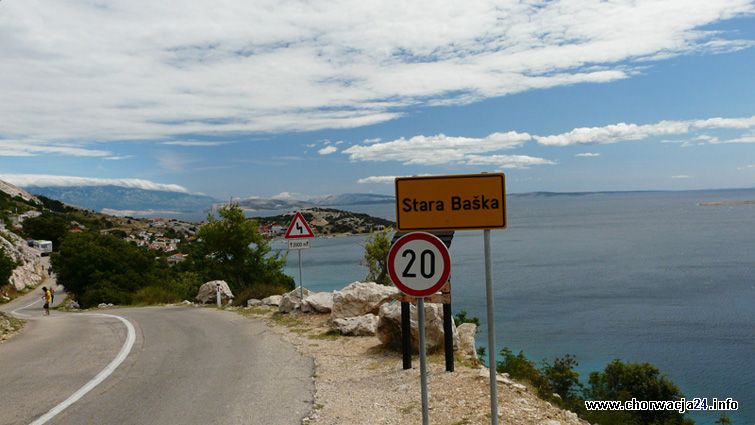 Photo sources: https://www.arz.hr/en/motorway/sections/krk-bridge, https://commons.wikimedia.org/wiki/File:D102,_Omi%C5%A1alj,_Croatia_-_panoramio_-_Arek_N._(1).jpg, http://www.chorwacja24.info/zdjecie/stara-baska, https://www.novasol.com/holidayhome/croatia/kvarner-bay/krk-island/holiday-rental-krk-stara-baska-cki141
r