Facts
Location: Tyrolean Alps, Austria, Europe
Length: 19.9 km
Width: 2 lanes, 5 m
Surface: asphalt
Surface quality (out of 10): 8
Highest point:  1,212 m (3,976 ft)
Operating times: throughout the year
via B179
Route: from Lermoos to Nassereith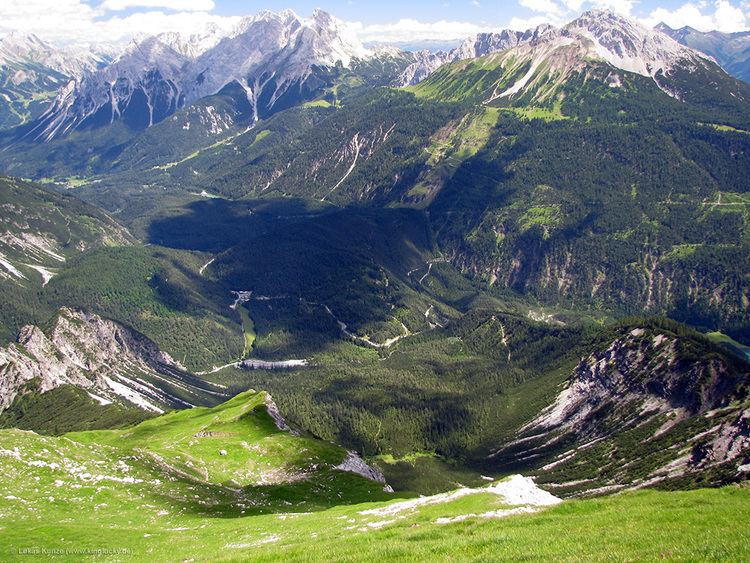 Fern Pass Road Description
Fernpass or Fern Pass is a high mountain pass, located at an elevation of 1,212 m (3,976 ft) in the Tyrolean Alps, in Austria. This excellent winding road that features sharp and blind curves is thrilling and enjoyed by all those driving it.
The road taking to the summit is called Fernpass Straße (B 179), and it's made of asphalt. Starting from Lermoos, the elevation gain is 359 m, while the steepest gradient is 8 percent. From Nassereith, the elevation gain is slightly higher, of 579 m.
For our route, the entry point is the village Lermos, and it ends in Nassereith. Driving on this road, you will get to see a magnificent mountain landscape with blue lakes and the Zugspitze mountain. Even if this is the most scenic route, we don't recommend it during the main season because it overcrowded by tourists.
If you want to travel from Austria to Germany, this route is the best one since it offers a direct connection between these two countries.
The pass was created when an entire mountain collapsed. It was the third largest mountain slide in the eastern part of the Alps, with an estimated volume of 1 km3.
Sightseeing and driving
Before reaching the pass summit, in your way, you will find the Zugspitzblick viewing point. It's a meeting point and offers outstanding views of the mountain with the same name, and the Mittersee lake. Continuing the drive, you will come across a section with smooth curves that will turn into serpentines, followed by tunnels until reaching Nassereith.
The Fern Pass road has everything you could wish for in a route you would like to drive. It combines serpentines with smooth curves, a high-quality asphalt and a typical Tyrolean Alps landscape. On your way, you will find many lakes, the biggest one being the Mittersee lake. Also, there are tunnels and a significant elevation gain that won't allow you to get bored. You can stop by at the Zugspitzblic viewing point to admire the scenery.
To conclude, the Fern Pass is a highly recommend road, especially if you want to take a road trip between Austria and Germany. You will enjoy driving it, as well as the Alpine landscape.
Photo sources: https://alchetron.com/Fern-Pass, https://www.wikidata.org/wiki/Q667984, https://commons.wikimedia.org/wiki/File:Fernpas.jpg, https://mapio.net/pic/p-39589504/
r