Facts
Location: Austria
Length: 37 km
Width: 5 m, 2 lanes
Surface: asphalt
Surface quality (out of 10): 8
Highest point: 1,500 m (4,921 ft)
Operating times: closed during winter
via B165
Route: from Zell am Ziller to Wald im Pinzgau
Gerlospass Road Description
The Gerlosspass or Gerlos Pass is a high mountain pass reaching an altitude of 1,500 m (4,921 ft) above the sea level. It's located in High Tauern National Park, in the Austrian Alps, between Salzburg and Tyrol. It offers a typical and beautiful alpine landscape.
There are more than one routes you can take to reach the Gerlospass. On the East side, there are two of them. The newer one, built in 1960, starts in Krimml.
From here, the road is 8 km long, and the elevation gain is 600 m, with an average percentage of 6,5- 7%. It's a fun route with a wide road that's also easy to drive.
The second route is old and historical. You can start in Wald in Pinzgau, and you will drive for 13 km. The elevation gain is 790 m and the average percentage higher, between 10.5% and 18%. It's closed during winter as trucks and motorcycles aren't allowed here.
On the west side, there is another road. Built in 1964, it starts in Zell am Iller. It's 29 km long, and the elevation gain is 1000 m. The average percentage is between 3,5-9%. We chose this route, starting in Zell am Iller and ending in Wald in Pingzau to tell you about.
The pleasure of driving an alpine road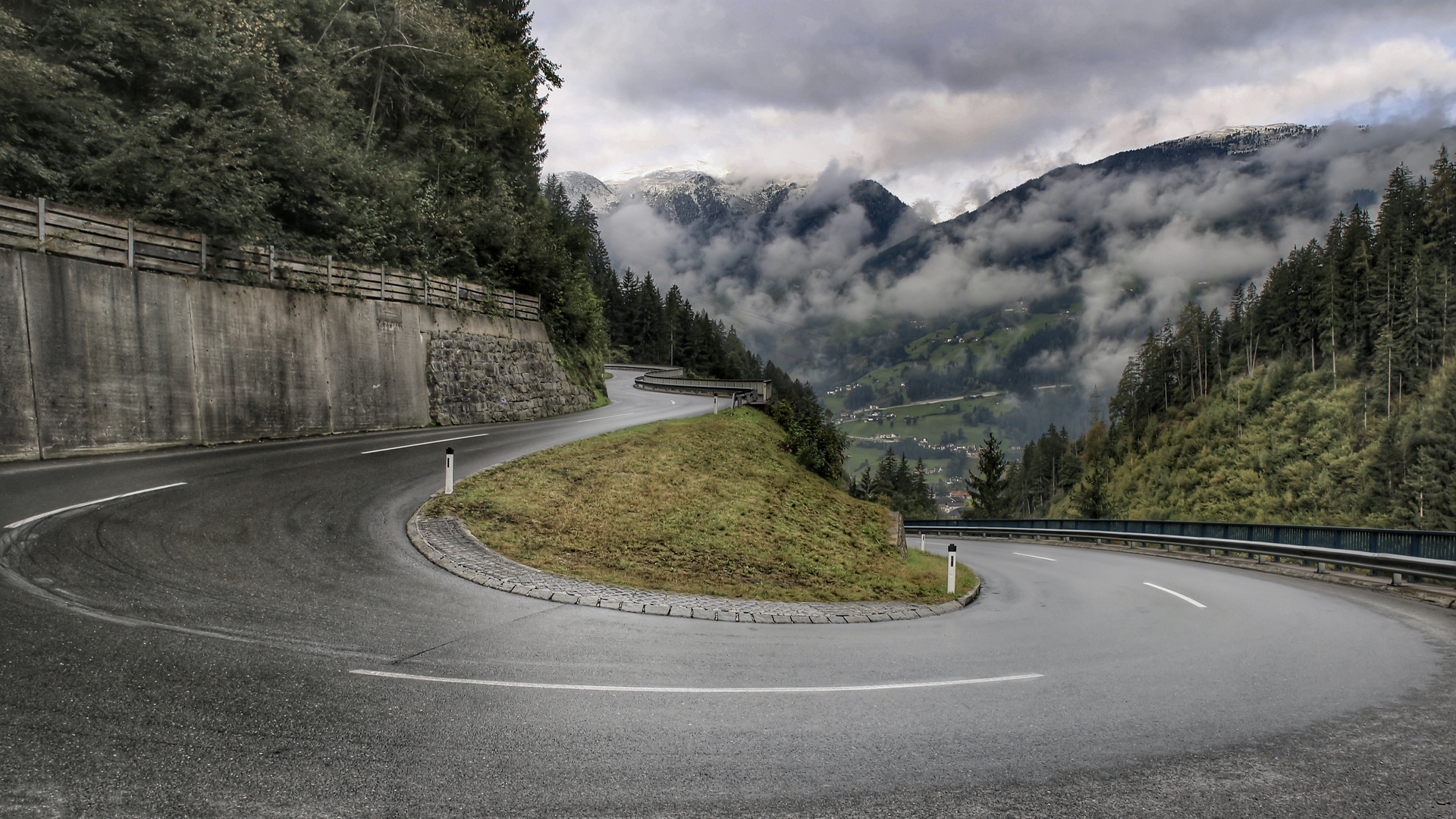 Many people drive on the Gerlos alpine road for their own pleasure and that says it all about this route. There are many twists and turns along the way. Also, the road is asphalted and smooth, and the scenery is second to none so thats a plus. You will marvel as you will see the Krimmi Waterfalls and the other beautiful views. There are many panoramic views you can admire from the summits to the north and the south.
A section of 12 kilometres taking you to the Gerlospass pass was planned by Franz Wallack, the architect of the Grossglockner High Alpine Road. To be more specific, we're talking about the stretch from Krimml up to the summit, on the Pinzgau side.
The Gerlos Alpine Road is a great drive for all the enthusiastic drivers out there. Also, while here, visit the Wasser Welten Krimml, before or after arriving at the pass. It's the fifth highest waterfall in the world and a sight to see, along with the beautiful scenery of the Gerlospass and the High Tauern National Park.
Photo sources: https://commons.wikimedia.org/wiki/File:Gerlospass_22.JPG, https://www.filzstein.at/en/region-krimml-austria/summer-vacation/motorcycling.html,  https://www.indebergen.nl/bezienswaardigheden/78-gerlospass/, https://www.fotocommunity.de/photo/gerlospass-martin-majchrzak/41284380
r