Facts
Location: Switzerland
Length: 38,8 km
Built: 1894
Width: 5 m, 2 lanes
Surface: asphalt
Surface quality (out of 10): 8
Highest point: 2.164 m (7,100 ft)
Operating times: May- October
via Route 6
Route: from Innertkirchen to Oberwald
Grimsel Pass Road Description
Grimsel Pass is one of the highest mountain passes in the Alps, located at an elevation of 2.164 m (7,100 ft) above the sea level. It offers unique views, and it encompasses miles of twisty hair pin corner and steep grades. Driving this road is a unique experience and gives you the chance to enjoy the beauty of the Swiss Alps.
The road was built in 1894, and it was the only path to cross the Bernese Alps in Wallis. Because of the high altitude and the climate, the road is usually closed between October and May.
Drivers will find here a road that's worth the drive. It features many steep grade, hairpin curves and stunning views to enjoy along the way. The asphalt is smooth and allows you to enjoy every switchback and tight turn. It also is a road that was artfully designed to fit the landscape. The Grimsel Pass will take you along the Hasli Valley, the Bernese Oberland, the Goms district and it also is nearby the source of the Rhone and the glacier with the same name.
The views here are similar to a lunar landscape. When driving from the North, you will see lush forests and a wide, smooth road that slowly opens into a granite-like valley. Soon, the views will begin to open up, and the road becomes more twisty. The final stretch taking you to the Grimsel Pass is the best and the most entertaining one. It features many thrilling switchbacks and amazing scenery.
One of the most insane roads
You can start the drive from Oberwald where the ascent will be 12,1 km long, the elevation gain 797 heightmeters and the average percentage 6,6%. Starting from Innertkichen, the ascent is longer, of 26 km. The elevation gain is 1,540 heightmeters, the average percentage 6,6% and the maximum slope 11%. It's a longer climb, sometimes very steep. You will also find a few tunnels when driving towards the summit.
This road is known as one of the most insane roads in the world. Even though it's not a dangerous one, it's tightly hair-pinned and bumped. It's exquisitely winding and has many blind curves and hairpins.
When it comes to scenery, the one that accompanies you as you drive is a beautiful one. You will go over a barren mountain landscape with granite rock formations, lush meadows. Mountain peaks, glaciers, power plants and so on.
The Grimsel Pass is a must-drive route that features everything a driver would want to experience during a drive. It's both thrilling and gives you the opportunity to enjoy a stunning landscape like only in the Alps you can see.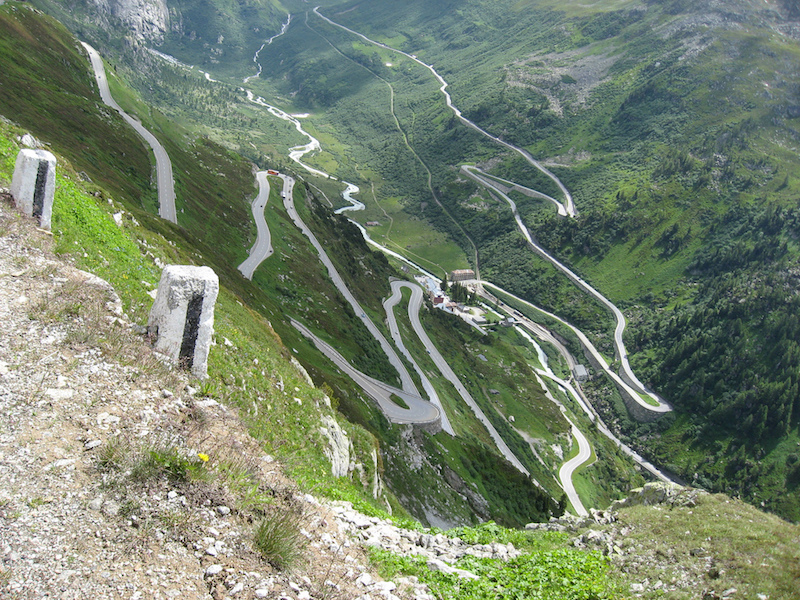 Photo sources: https://www.adventurebikerider.com/grimsel-pass-switzerland/, https://www.myswitzerland.com/en-ca/experiences/route/viasbrinz-grimsel-pass-handegg-mule-track/, https://www.epikdrives.com/grimsel-pass, https://www.viator.com/Interlaken-attractions/Grimsel-Pass/d5011-a16619
r