Facts
Location: Lake District, UK
Length:  23,5 km (14,6 miles)
Wide: 5 m standard, 2 lanes
Surface: asphalt
Surface quality (out of 10): 7
Highest point: 454 m (1,489 feet)
Operating times: open all year
via A592
Route: from Ambleside to Patterdale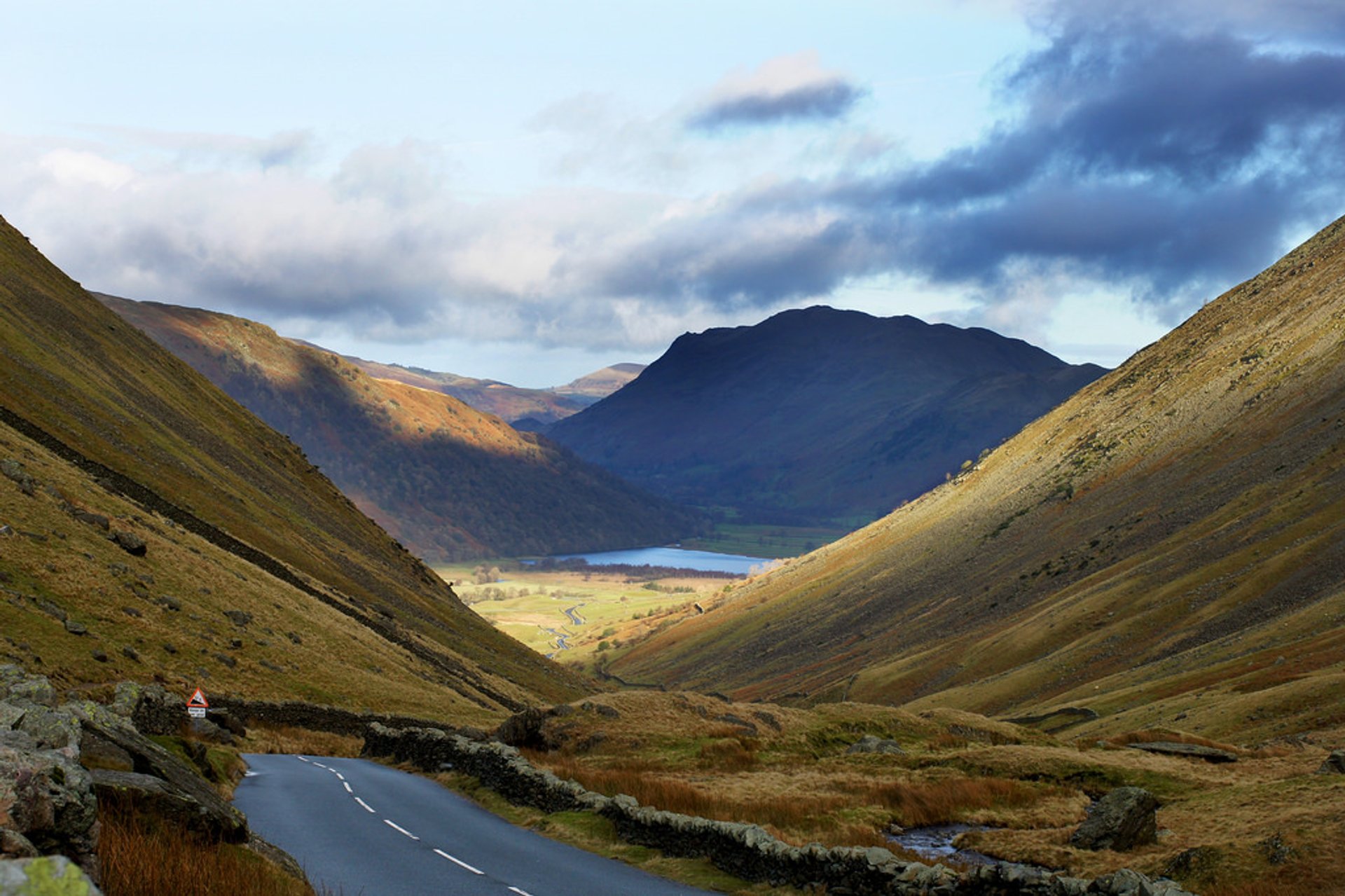 Kirkstone Pass Description
The Kirkstone Pass offers a drive that combines the best views Cumbria has to show. It connects the Ambleside in Rothay Valley to Patterdale in Ullswater valley and puts all the highlights of the area in one drive, the ones taking you to this pass. You will see here the incredible scenery of the Lyvennet Valley, the Kirkstone Quarry, Lake Windemere and so on.
Featuring an altitude of 454 m (1,489 feet), it's the highest pass in Lake District. Also, it's one that's open to motor traffic. The road that goes through this route is A592. As for the route, it begins in Ambleside and ends in Patterdale or the other way around. It depends on you where you want to start it.  The gradient is 1 in 4 in some of the places here. On your way to Patterdale, you can also stop by Brothers Water where you will get a picturesque view on the descent towards Patterdale.
This mountain road is a great one to drive. It's narrow, twisty and has 1 in 4 gradients on some sections, like many other British roads taking to passes. The road is asphalted and open all year round. Here, the traffic is slow in high season, from Windermere to Pooley Bridge, and from Kendal to Windermere.
Landmarks
Also, in your way, you will come across the Kirkstone Pass Inn. It's located close to the summit. This used to be a coaching inn in the past, but now it's used for tourism. What's special about it is that it's the third highest public house in England.
In the area near the top of the pass, there is also the Kirkstone Quarry. This is the place where rock extraction and architectural stone production happened. The primary materials extracted were green and blue-black slate.
You can also see other landmarks. Some include Lake Windemere, Holehird, Townend at Troutbeck, the Steamboat Museum, Brotherswater, Ullswater and Aira Force, Wetheriggs Country Pottery and the Lyvennet Valley.
Overall, this mountain road combines elements such as tight turns, narrow stretches. Besides this, of course you will also have a beautiful scenery and panoramic views. It's worth a drive and the trip will be an enjoyable one for drivers that love a good road.
Photo sources: https://www.visitcumbria.com/amb/kirkstone-pass/, https://www.timesandstar.co.uk/news/17020395.a-drive-on-kirkstone-pass-like-an-aspirin-for-the-soul/, https://www.grough.co.uk/magazine/2019/12/15/rescuers-called-out-as-kirkstone-pass-motorists-come-to-grief-in-snow-and-ice, https://rove.me/to/england/kirkstone-pass
r