Facts
Location: Asturias, Spain
Length: 14.6 km
Width: 5 m, 2 lanes
Surface: asphalt
Surface quality (out of 10): 7
Highest point: 1,761 m
Operating times: throughout the year
via SD-1
Route: from Pola de Somiedo to Saliencia
La Farrapona Road Description
La Farrapona is the name of a mountain pass located in the Somiedo Natural Park, in the Cantabrian Mountains, Principality of Asturias, northern Spain. The altitude of this pass reaches 1,761 m above the sea level. It also is the highest asphalted road in this region of Spain and a great road to drive that will show you the surrounding views.
The road leading to the summit was asphalted in 2011 and, ever since, it has become an attraction for drivers who want to take this journey and enjoy what this road has got to offer. Speaking of which, the road has it all, from elevation changes to twists, turns and a spectacular landscape. So, it's easy to understand why it attracts so many people.
If you start your drive from La Malva, the ascent is 20 km long, and the elevation gain is 1,100 heightmeters, with an average percentage of 5,5. Driving from Castro to Pola Somiedo, the average climb is 5,8%, and you will reach a height of 1708 m.
Leaving the technical details aside, let's talk about the feel of driving this road. It's scenic from the start until reaching the summit, as you wind along the river gorge. The ascent begins with a tunnel that gives you a hint of what you will continue to see.
The route
The first steep section you will experience is before the village of Veigas. After this, the road will pinch point in the valley and, before the Arbellales village, it will rear up 10-14%, where you will have to reach for the low gears. After a steep section, the road eases in the way to Saliencia and the kicks up again up the valley. Close to the top of the Galibier, the road pitches up to the La Farrapona pass. This is also where you will drive on a series of bends and hairpins.
Overall, the Farrapona road is one of the drives you have to take when in Spain. The recently asphalted road runs along the gorge of the river, unveiling a beautiful scenery and an enjoyable road to drive. From the high altitudes the road takes you to, you will get to admire the amazing landscape.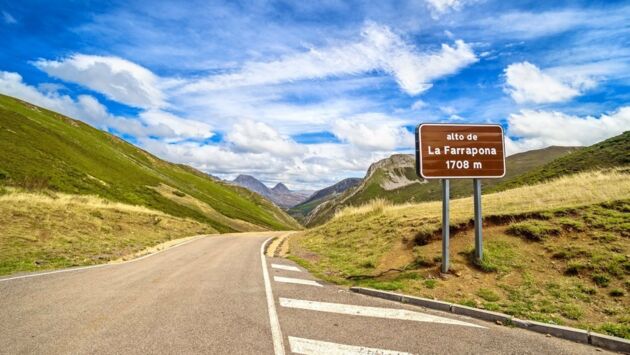 Photo sources: https://inrng.com/2014/09/roads-to-ride-la-farrapona/, http://www.carlosvega.net/puertos/74/la-farrapona-por-somiedo, https://www.programme-tv.net/programme/sport/r309933-cyclisme-tour-despagne/18419370-villaviciosa-alto-de-la-farrapona-lagos-de-somiedo-170-km/
r