Facts
Location: Thailand
Length: 766 km
Width: 5 m, 2 lanes
Surface: asphalt
Surface quality (out of 10): 7
Highest point: approximately 2,500 m
Operating times: throughout the year
via Road 107, 1095, 108, 1088, 1192, 1009 and 108
Route: from Chiang Mai to Chiang Dao, Pai, Sop Pong, Mae Hong Son, Khun Yuam, Mae Sariang, Doi Inthanon and back to Chiang Mai
Mae Hong Son Loop Road Description
The Mae Hong, Son Loop road, is one of the most famous ones for a multi-day excursion in Thailand. It's located in the northern part of the country, and it's a great opportunity to explore this part of Thailand. This route will take you deep into the mountain and river scenery and along genuine towns. It's a remote area and not many people come here, but it has plenty of things to offer, from the road to the landscape.
The road is 766 km long and takes around four days to complete, especially if you want to stop and explore the surroundings. You can start this route in Chiang Mai and drive it clockwise or counter clockwise. It will take you to the beautiful province of Mae Hong Son and pass through towns such as Chiang Mai, Chiang Dao, Pai, Sop Pong, Mae Hong Son, Khun Yuam, Mae Sariang, Doi Inthanon and more.
Chaing Mai is a big tourist hub in Thailand. Starting from here, travellers can head south towards Hot along Route 108. This is a great start, especially if you're not the most experienced driver. Starting counter clockwise, via 107 is a more challenging road. Either way, the ride will be a thrilling one.
The route
The trip can be completed in just two days, but the more time you have to discover this area, the better. You can spend even a week or more meandering your way around the loop.
The scenery in this area is stunning, just as you would expect it to be in Thailand's most mountainous province. To top that, the road is asphalted and in excellent condition. During the journey, you will pass around waterfalls, temples, caves and you can even climb the highest mountain peak in Thailand. It's called Doi Inthanon and offers some amazing views over the valleys.
Another great thing about this road is that it features more than 1800 curves. So, passionate drivers will love this exciting ride. Due to the big number of twists and turns, drivers might find the Mae Hong Son Loop challenging. Also, navigating uphill and downhill the mountain roads will make driving here more difficult, yet thrilling. Luckily, the roads are in good condition, so you won't have to worry about that. Nonetheless, an extra caution should be taken during the rainy season, from May to October, when the surface gets slippery.
Overall, this journey will be an epic one and drive here is a unique experience for those that love driving on this kind of road. The scenery is breathtaking, and there are plenty of other things to do around the area, so take your time exploring the Mae Hong Son Loop road and its surroundings.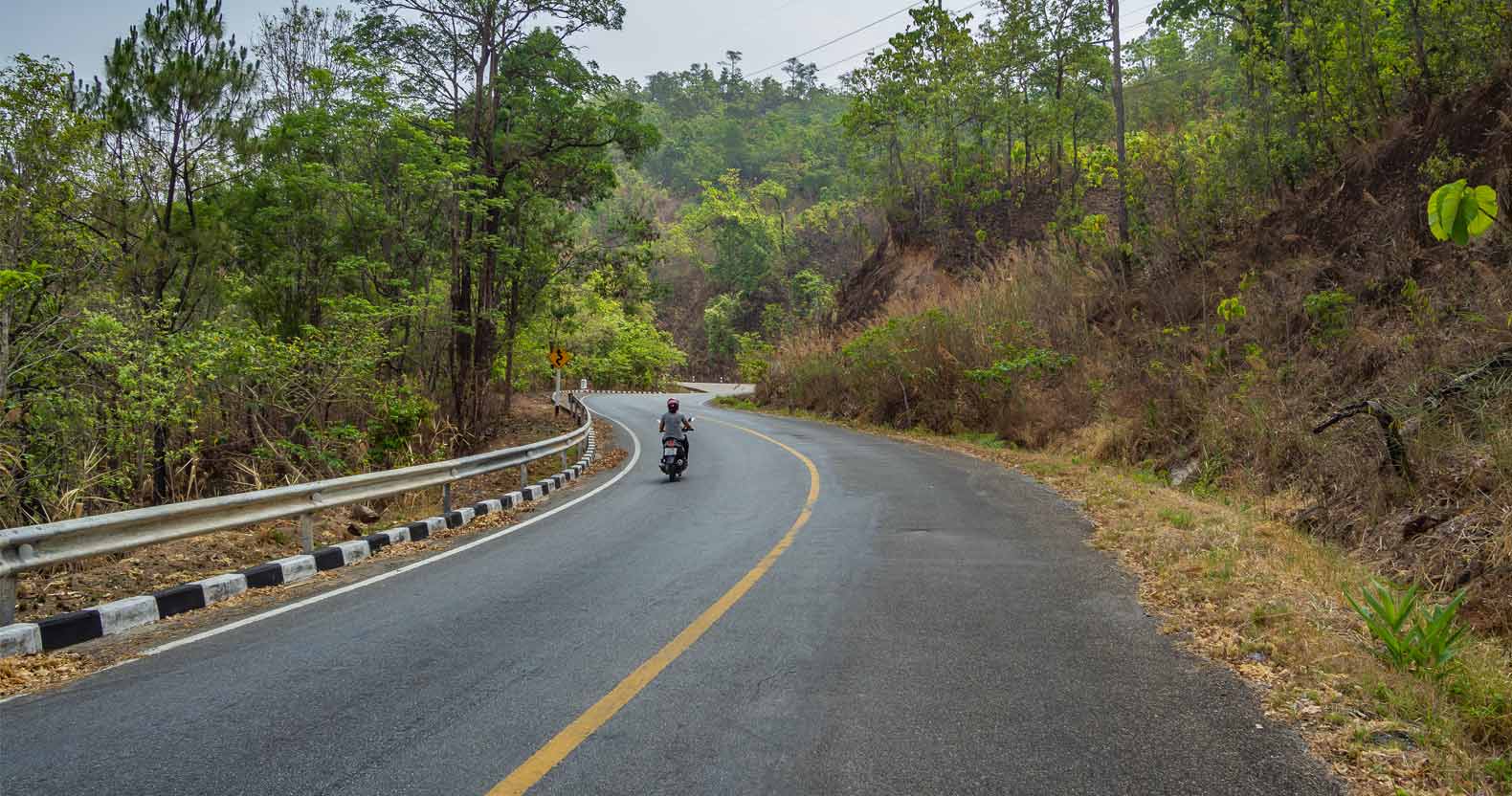 Photos sources: https://apackandamap.com/mae-hong-son-loop/, https://www.iflymagazine.com/en/magazines/thailand/travel-schedule-mae-hong-son, https://www.theakyra.com/chiang-mai/experience/be-curious/mae-hong-son-loop/, https://www.busstopsandflipflops.com/riding-the-mae-hong-son-loop/
r