Facts
Location: Switzerland
Length: 73,4 km
Built: upgraded in 1839
Width: 2 lanes
Surface: asphalt
Surface quality (out of 10): 9
Highest point: 1,815 m (5,955 ft)
Operating times: throughout the year
via Route 3 and Route 27
Route: from Chiavenna to Engadin
Maloja Pass Road Description
The Maloja Pass is located at an elevation of 1,815 m (5,955 ft), in the Swiss Alps in the canton of Graubünden. It links the Engadin with the Val Bregaglia and Chiavenna in Italy.
This pass is also called "the pass that never was" because of its geographical peculiarity. Also, it includes some steep sections and many hairpin twists, to the delight of those that love this kind of roads.
Back in the days, the Maloja Pass was an important part of the Alpine crossing. It was led by Comum via this pass, the Julier pass to the Rhine Valley to Chur and through Brigantium, towards August Vindelicum. Documented since the 16th century , the road got an upgrade and became a driveway in 1839.
This road is asphalted and, just like many other Swiss passes, before the actual pass, it shows no significant twists. A few kilometres before reaching the pass summit, it starts to climb in what seem to be endless and tight serpentines. It reaches the small Maloja village and an altitude of 1,815 m.
The route
If you start the drive in Chiavenna, at a 325 m altitude, follow the road east, going through Val Bregaglia (Bergell) valley. After passing Chiavenna, you will reach an altitude of 697 m and come across the Castasega town, at the Swiss- Italian border. Overall, the drive will be a smooth one, uphill to Castasegna and you will meet just a few curves. The road becomes more exciting right before the summit. That's where you will get to drive the tight serpentines and enjoy the thrill of it. Also, when reaching the summit, you will have some fantastic panoramic views to admire. This road is usually open all year. It can sometimes be closed when the access is not cleared of snow.
The Maloja Pass was the result of the last ice age and the retreating glaciers that left basins behind. The rest of the pass continues from 1,800 m, with a gentler slope. The Upper Engadine, located behind Maloja, was created by the glaciers and has the shape of a boat.
Also, the lakes in the are the result of the retracting glaciers as well. We're referring to the Lej da San Murezzan, Lej da Silvaplana and Lej da Segl lakes.
So, you could stop by and do some sightseeing here as well while driving the spectacular Maloja Pass.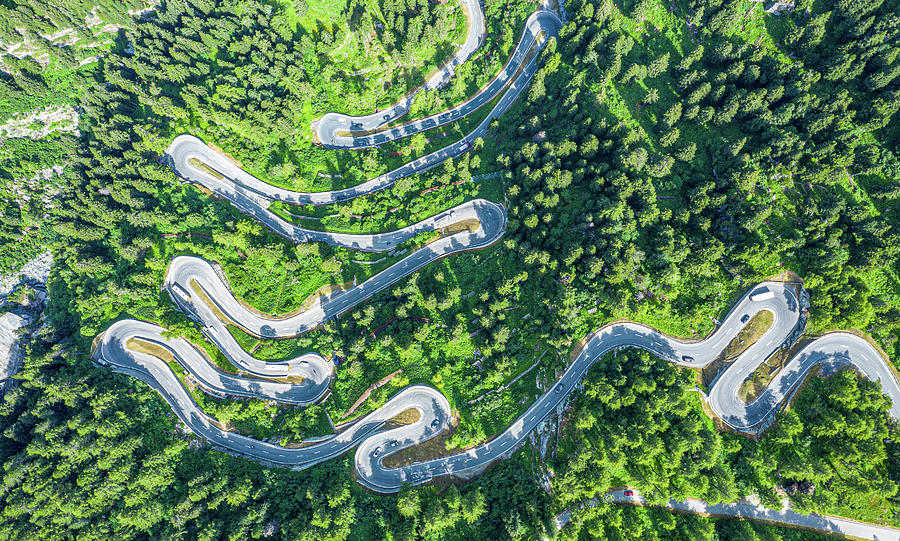 Photo sources: https://en.wikipedia.org/wiki/Maloja_Pass, https://www.locationscout.net/switzerland/2583-maloja-pass-road, https://www.offset.com/photos/serpentines-at-the-maloja-pass-val-bregaglia-engadine-grisons-870565, https://fineartamerica.com/featured/maloja-pass-in-the-swiss-alps-in-engadin-switzerland-from-above-erik-lattwein.html
r