Facts
Location: English Lake District, UK
Length: 16,5 km (10,3 mile)
Width: 2 lanes
Surface: asphalt
Surface quality (out of 10): 6
Highest point: 1,093 feet (333 m)
Operating times: throughout the year
via B5289
Route: from Buttermere to Keswick
Newlands Pass Description
The Newlands Pass is located in the English Lake District, UK, at an elevation of 1,093 feet (333 m). It's also known as the Newlands Hause, and it can be found on an unclassified road that links Newlands Valley to the village of Buttermere.
The great thing about this mountain pass is that it offers a series of hairpin bends, perfect for drivers that want to test a new and challenging road. It also is one of the three passes that link the area around Keswick with the valley of River Cocker. The area includes the lakes of Buttermere, Crummock Water and Loweswater as well. The three passes are, from the north to the south, Whinlatter Pass, the Newlands Pass, and the Honister Pass.
In the same area, you will also come across the Moss Force Waterfall, on the southern side of the pass. It can easily be reached from the top of the summit, and it's also worth it, especially if you want to take a break from driving to relax a bit. Although the road is short, it can be quite challenging, even more since it's narrow and meeting another car can become stressful.
The road over the pass is asphalted, steep and narrow. It features a few tight sections scarcely wide enough for two vehicles to pass at once. This road pass also has a series of tight hairpin turns that will add thrill to the journey. It's just what a driver needs to make out of this experience an exciting one.
The drive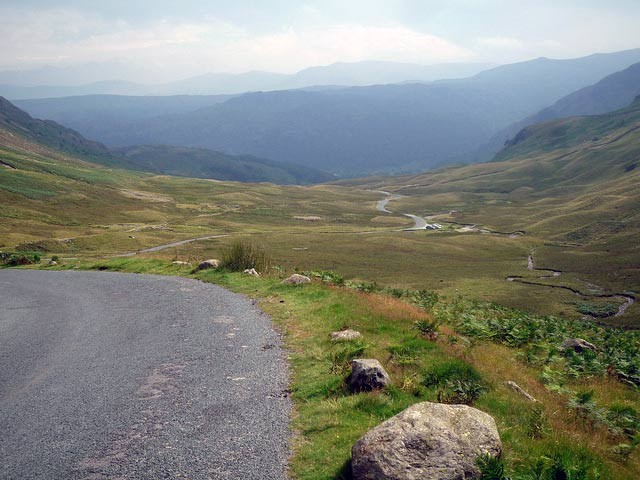 Of course, a road worth driving would not be complete without a spectacular scenery. The views of the mountains here are wonderful, and there are places where the drop is a hundred of meters long. Combining these elements, you will have a great ride ahead of you. Challenging roads and the amazing scenery is a mix you cannot go wrong with.
The Newlands Pass will test your driving skills, but driving it will be a pleasure. There are single-track sections that rise steadily. Also, the twists and turns add more fun to driving in this area. The scenery is specific to the English landscape, and the green valleys combined with high peaks are always beautiful and relaxing to admire, so don't miss this one.
Photo sources: https://cyclinguphill.com/100-climbs/newlands-house-pass/, https://www.visitcumbria.com/cm/newlands-pass/,  https://www.picturesofengland.com/England/Cumbria/Ambleside/The_Lake_District/pictures/1169193
r