Facts
Location: Italy
Length: 29.1 km (18,1 miles)
Width:  2 lanes
Surface: asphalt
Surface quality (out of 10): 7
Highest point: 2,105m (6,906 ft)
Operating times: open all year
via SR48
Route: from Andraz to Cortina d'Ampezzo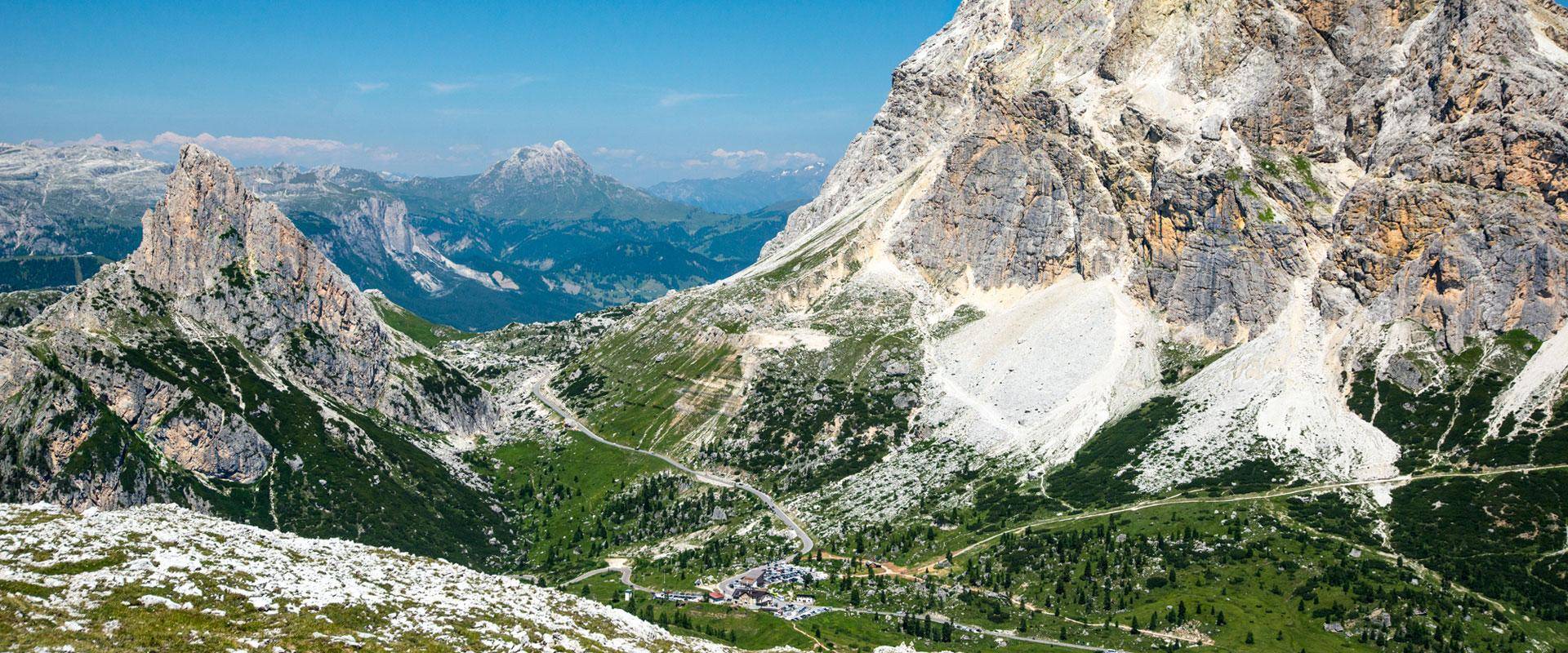 Passo di Falzarego Road Description
Passo di Falzarego is a great drive you can take in the Dolomites, in Italy. It will take you to an altitude of 2,105 m (6,906 ft) above the sea level, and it's located in the Belluno province. To get there, you will have to drive on the road named the SR48. It's an asphalted road, featuring two lanes. This road connects Andráz and Cortina d'Ampezzo.
When driving here, feeling an adrenaline rush and the pleasure of driving on a challenging road combine. Also, they are increased by the Pass di Falzarego's endless curves and serpentines. These contribute to creating a fantastic route that goes uphill through the green forests. The surface of the road is smooth since it's asphalted, and the combination of hairpins that features medium fast sweepers and long straights is a must-ride route.
Also, there is a lot of history around this Passo di Falzarego. This was a hard-fought position during the World War II, and both the Austrians and Italians disputed it. Nowadays, this is a popular war memorial that you can visit if you're passing through.
Routes to the pass
There are three ways to reach the summit. You can start from Cortina. From here, the ascent is 16.4 km long, the elevation gain is 913 heightmeters, and the average percentage is 5.6 %. Another starting point is Caprile, where the ascent is 20.46 km long, the altitude gain is 1119 heightmeters, and the percentage 5.5 %. Last, but not least, starting from Cortina d'Ampezzo, the ascent is 14.23 km long, the elevation gain is 841 heightmeters, while the average percentage is 5.9 %.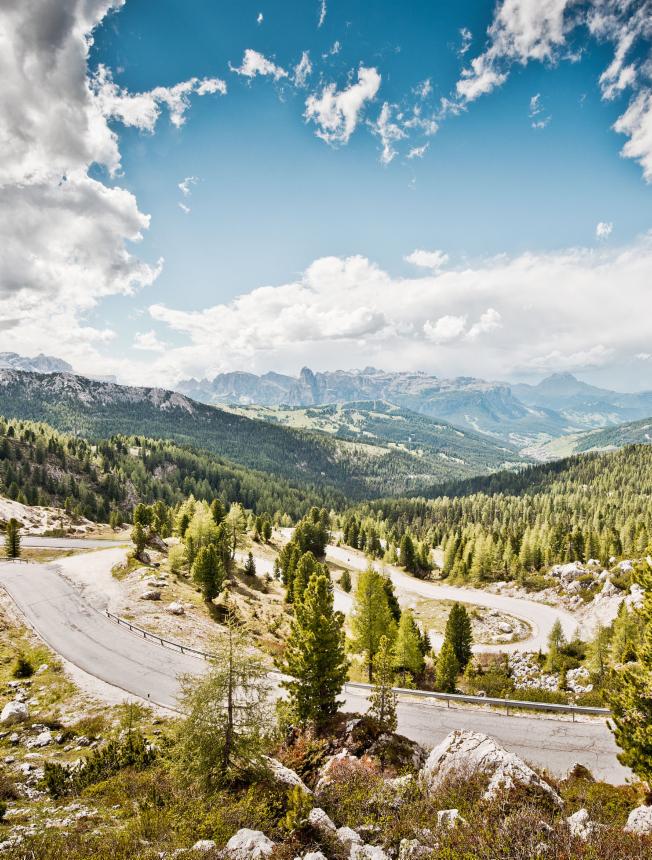 From Andráz, the route winds through the Val di Limides, surrounded by the Col di Lana mountain on the left side and the Monte Averau mountain on the right side. Along the way, you will drive on what seem to be some endless serpentines. All these form a fantastic pass road that goes through evergreen forests. You can continue the drive when reaching a junction on top of the pass, to get to When you have made that trip uphill, you will reach a junction just on top of the pass road, that can take you across the Passo di Valparola.
Besides the thrilling elements you will find on the Passo di Falzarego road, the landscape shouldn't be ignored either. Not that you could anyway. Driving towards Passo di Falzarego, you will enjoy seeing the evergreen forests and the mountain peaks. In October, the scenery becomes even more coloured as the sky is deep blue and the flora becomes multicolour painted in red, orange and yellow. It's a great time to take this route and enjoy the pleasure of driving. You can also stop to smell the fresh air and maybe take a few photos. This way you will remember the drive and how it all looked like.
Photo sources: https://lagazuoi.it/EN/Discover-Elements-of-the-landscape-page57-The-Falzarego-pass, https://www.tripadvisor.com/LocationPhotoDirectLink-g194745-d5552517-i263235453-Rifugio_Lagazuoi-Cortina_d_Ampezzo_Province_of_Belluno_Veneto.html, https://roads.porsche.com/content/en/routes/passo-di-valparola-falzarego-dup2, https://en.cols-cyclisme.com/dolomites/italie/passo-falzarego-depuis-caprile-c1950.htm
R