Facts
Location: Madeira, Portugal
Length: 26,6 km (16,5 miles)
Width: 2 lanes
Surface: asphalt
Surface quality (out of 10): 8
Highest point: 1,818 m (5,965 ft)
Operating times: open all year
via VR1
Route: from Funchal to Machico
Pico do Arieiro Road Description
There are some drives that perfectly combine an exciting road with incredible views. Pico do Arieiro is a peak and the road taking you there is one of those drives. This is Madeira's third highest peak and driving the road that takes you there is quite the experience. The road taking you up there is steep, features a few tunnels and some memorable views that you can enjoy as you drive towards the summit and as the altitude rises.
This high mountain pass located at an elevation of 1,818 m (5,965 ft), as said before, can be found in Madeira, a Portuguese archipelago. This is also the highest peak you can reach by a road in Portugal. When getting to the summit, you will find a large car park, a souvenir shop and a restaurant. From here, you can continue the journey by foot, to get to Pico Ruivo, another famous attraction in the area that you can hike to.
The drive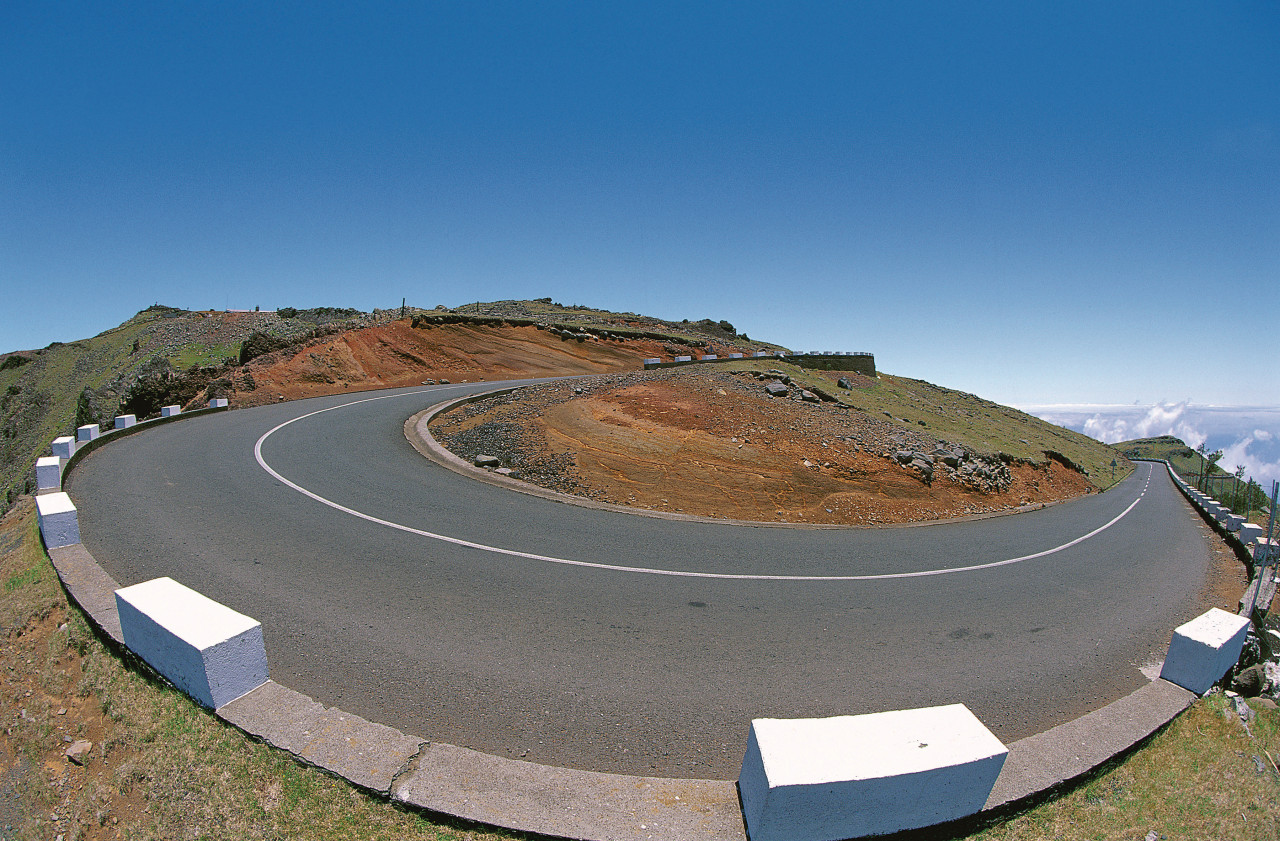 What makes this experience a delightful one for any enthusiast driver, has to be the road taking you to the summit. It features many twists and turns, it's steep, and the elevation gain is a significant one. Also, on your way towards the top, you can enjoy the sight of a unique stone-built pit, known as "Poço da Neve".
You will drive through a dense coniferous forest and will slowly, but steadily feel the altitude gain. At the height of 1500 m, the forest thins out, and you will see valleys without too many trees. The landscape opens up and you can admire its beauty from the height. Either way, there are plenty of things to see on your way there and at the summit as well.
The routes
There are two routes you can take to get to the Pico do Arieiro summit. You can either start the drive in Funchal or in Macico. From the first starting point, the ascent is 19.6 km long, the elevation gain over that distance is 1.813 meters, and the average percentage 9.3%. From Machico, the ascent is 25.8 km long, the elevation gain is 1.818 meters, and the average percentage 7%. The gradient varies, but there are steeper sections that will make driving here a bit challenging, but nothing too major.
Also, driving on the many serpentines heading to Pico do Arieiro is perfect for the adrenaline seekers that want to experience driving on a new scenic road. Most of the road will take you through the mountains, but there also are some sections on the coast. So, you will get to drive on both a mountain and coastal road. The view are diverse and, as you can imagine, amazing, same as the ones seen from the summit. It definitely is a fun drive that offers everything you would want from such a route like the one that goes to Pico do Arieiro.
Photo sources: https://www.viator.com/tours/Funchal/Sunrise-At-Pico-Do-Arieiro-Hike-To-Pico-Ruivo/d22388-192925P1, https://www.petitfute.co.uk/v39806-pico-do-arieiro/guide-touristique/photos.html, https://www.freepik.com/premium-photo/pico-arieiro-madeira_4492836.htm, https://www.tripadvisor.com/LocationPhotoDirectLink-g189166-i22059017-Madeira_Madeira_Islands.html
r