Facts
Location: France and Spain
Length: 18,1 km
Built: 1970s
Width: narrow
Surface: gravel
Surface quality (out of 10): 6
Highest point: 2,260 m (7,414 ft)
Operating times: throughout the year
via D703
Route: from Couflens to Port d'Aula
Port d'Aula Road Description
Port d'Aula is a natural boarder between France and Spain, as well as an international mountain pass located at an elevation of 2.260 m (7,414 ft) above the sea level, in the Pyrenees. Moreover, this range of mountains from the south-west of Europe forms a natural border between France and Spain, along with the pass.
The road taking to the summit has a stunning scenery. It's also called Route Forestiere du Port d'Aula. It won't be the smoothest road though since it's covered with gravel. Driving here can be a true challenge, even more since this route includes more than 20 hairpins.
Nonetheless, it's one of the most beautiful roads in the Pyrenees, and it's worth the drive for the scenery and the pleasure of driving it, as well as overcoming the challenge.
The road was built in the 1970s, and it can be closed at any time because of the heavy snowfalls, avalanches and landslides. It offers adrenaline pumping journey because of the ascent, elevation changes, turns and the surface of it.
The drive
You can only start the drive from the French side, in Couflens Nord. The ascent is 18 km long, and the elevation gain is 1560 height meters, with an average percentage of 8.7%.
The ascent begins as soon as you start the drive, after crossing the bridge. It continues to gain altitude while showing you some beautiful views. After 4 km from Col de Pause, located at an elevation of 1545m, the surface of the road changes to a rutted gravel. The road continues and ends with a mountain trail that's only fit for hikers and cyclists. So, if you want to reach the pass, you will have to leave the car and continue with a hike or a bike ride. Even though it's a challenging drive and journey overall, the views you get to see are all worth it.
In the end, you will reach an elevation of 2,260 m (7,414 ft). The views from this altitude are breathtaking.
Along the journey towards the summit, you will see a beautiful landscape of the Etang de Prat Matau and Etang d'Areau, two alpine lakes part of the scenery.
The best time of the year to take this drive would probably be during summer, because of the high altitude and the low temperatures here.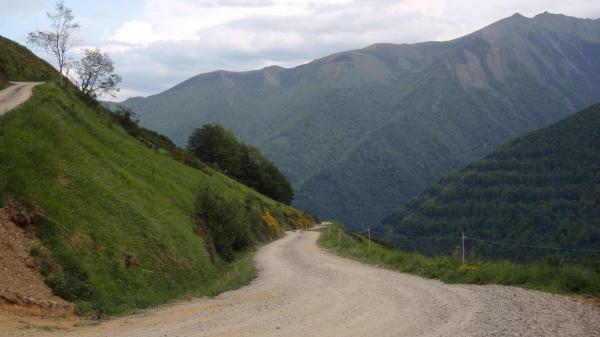 Photo sources: https://www.dangerousroads.org/europe/france/4242-port-d%E2%80%99aula.html, https://www.pinterest.com/pin/308707749445666059/, https://en.cols-cyclisme.com/pyrenees-centrales/france/port-d-aula-depuis-couflens-c1576.htm, https://www.wikiloc.com/hiking-trails/zuid-frankrijk-port-d-aula-8674302/photo-5101507
r