Facts
Location: France
Length: 5 km
Width: 2 and one lane
Surface: asphalt
Surface quality (out of 10): 6
Highest point:  235 m
Operating times: throughout the year
via Charmeil
Route: from Belvedere Du Ranc to La Bourne
Route de Presles Road Description
The Route de Presles is a great balcony road that takes you through tunnels and the way cut into the sheer cliff. It's located in the Isère department, in southeastern France. This country has many beautiful balcony roads that are worth the drive, and this one is no exception. The road is just a few kilometres long, and it's carved into the mountains. It's a dangerous one just like passionate drivers like a drive to be.
The road you will be driving on the Route de Presles is named D292. It features a succession of tunnels and passages, and they're all carved into the rock. The result is a narrow road with many blind corners, and there is even a potential landslides risk. Even so, this road is a breathtaking one and handling it both a challenge and a reward.
You won't find many roads in Europe like the Route de Presles, and that's what makes people want to come here and drive it. The feeling of riding a dangerous road will most certainly give you an adrenaline rush. You will find here twists and turns, and you have to be careful in case other cars will drive by because the road is quite narrow.
It can be shutdown for maintenance because it's prone to landslides. It also features a sheer drop and the visibility is reduced, so you must drive it carefully.
The drive
The best time to take this trip is during the months of May, June, July, August or September. If you prefer snow, then December, January and February are ideal months to come here as the mountains will be covered with snow.
Also, this route offers a view of the Hautes Plateaux du Vercors, and the area around is known as one offering the best outdoor sports terrain in Europe. It's especially famous for climbing.
This road will offer you an adrenaline-pumping journey, as well as fantastic views of the Hauts Plateaux du Vercors. The road continues to the another spectacular one, the Gorges du Nan. Overall, riding this route is an amazing experience and you'll get to drive on one of the most spectacular balcony roads in France.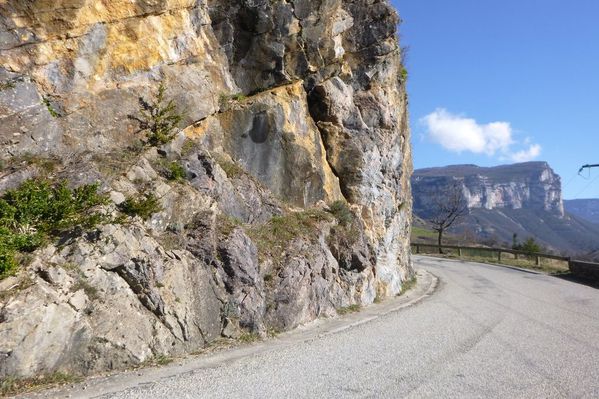 Photo sources: https://www.isere-tourisme.com/patrimoine-naturel/la-route-de-presles, https://www.inspiration-vercors.com/destinations/routes-panoramiques/la-route-de-presles, https://www.planet.fr/france-decouvrez-les-routes-les-plus-dangereuses-de-france.668853.1607.html?page=3, http://www.multiactiv.fr/article-le-printemps-de-presles-122649416.html
r