Facts
Location: High Peak Estate, Peak District, Derbyshire, England
Length: 22.6 km
Built: 1821
Width: 5 m, 2 lanes
Surface: asphalt
Surface quality (out of 5): 3
Highest point:  510 m
Operating times: regularly closed in winter because of snow
Route: Glossop to Ladybower Reservoir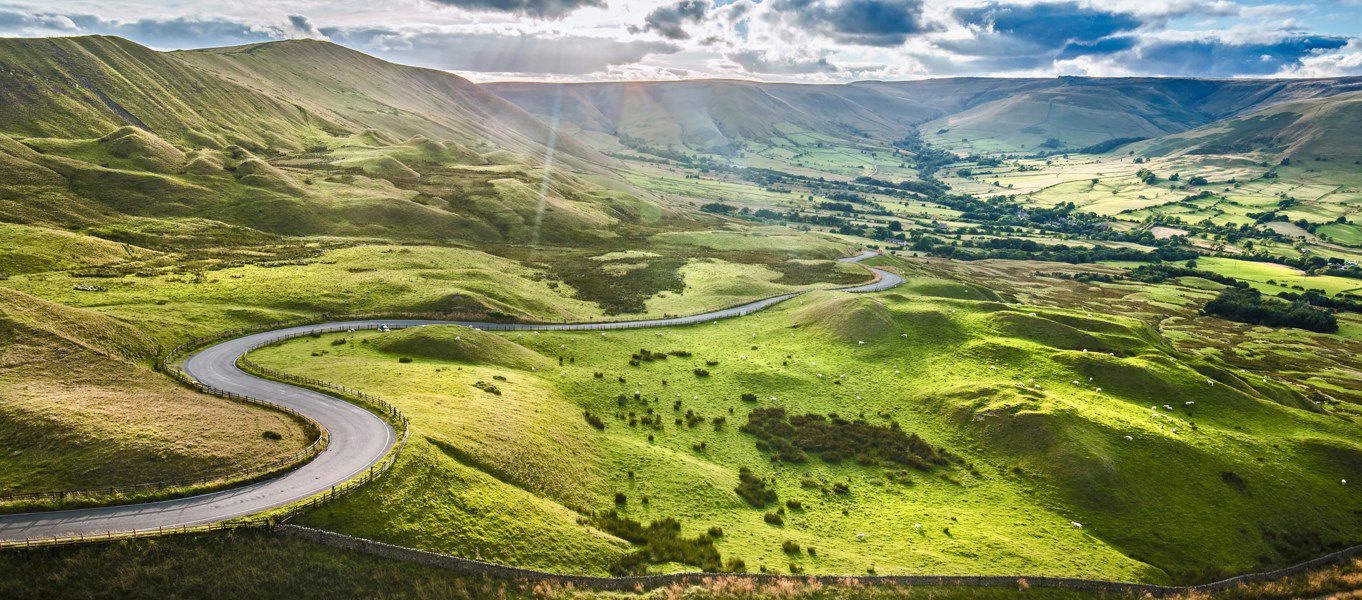 The Snake Pass Road Description
The Snake Pass road links two big cities, located in the Peak District: Manchester and Sheffield. Even though it's not the main road anymore, it's an excellent choice for the passionate drivers wanting to experience a famous British road. Also, that's a plus since the traffic will be lower. You will enjoy this route even more.
The A57 road crosses the Peak District and goes through the National Trust's High Peak Estate. Also, it crosses the Pennines between Glossop and Ladybower Reservoir, the route we're suggesting you try out. This road was engineered by Thomas Telford. It was meant to improve communications in the east of Glossop, an evolving industrial town. The construction of this route was financed by the Duke of Norfolk and the Duke of Devonshire. Built and opened in 1821, it immediately became popular.
Since it's a mountain pass, it has an elevation of 510 m (1,680 feet). It's usually closed during winter because the road can become icy and more dangerous.
The surface of the Snake Pass road is asphalted and features some steep sections. Also, it offers a thrilling drive due to passing over the high ground and the elevation changes.
One of the most dangerous roads
This route is also known for being one of the most dangerous. That's because it has several dangerous bends, as well as blind summits. This lead to a poor safety record. Even so, the scenery is quite impressive. So, it's worth the drive. The passionate drivers longing for adrenaline can satisfy their thirst here.
Starting the drive from Ladybower Reservoir, Ashopton, the elevation gain is 302 meters, while from Glossop is 362 meters. From either departing point, this route will surely be thoroughly enjoyed.
The road has fantastic views, and the scenery is exceptional. The start of the descent into Glossop is the best part. On a clear day, from here you can see to Manchester and beyond
The name of the road is the perfect match for the winding route. It initially got its name from the Snake Inn. This is one of the few building located on this road. The scenery is beautiful, and it manages to show the best of the natural landscape Britain offers.
It was named one of the best driving roads, in 2009, by Auto Trader magazine. It's easy to see why. Any driving enthusiast should drive it and enjoy the thrill of one of the best roads Britain has to offer.
Photo sources: https://www.campsites.co.uk/search/campsites-near-snake-pass, https://www.manchestereveningnews.co.uk/news/greater-manchester-news/part-snake-pass-closed-week-13797680, https://www.thestar.co.uk/news/sheffield-manchester-snake-pass-a57-road-has-reopened-318617
r