Facts
Location: Norway, Europe
Length: 37,3 km
Built: 1936
Width: 2 narrow lanes
Surface: asphalt
Surface quality (out of 10): 6
Highest point: 858 m (Stigrøra)
Operating times: closed during late autumn and winter
via Rv63
Route: from Åndalsnes to Valldal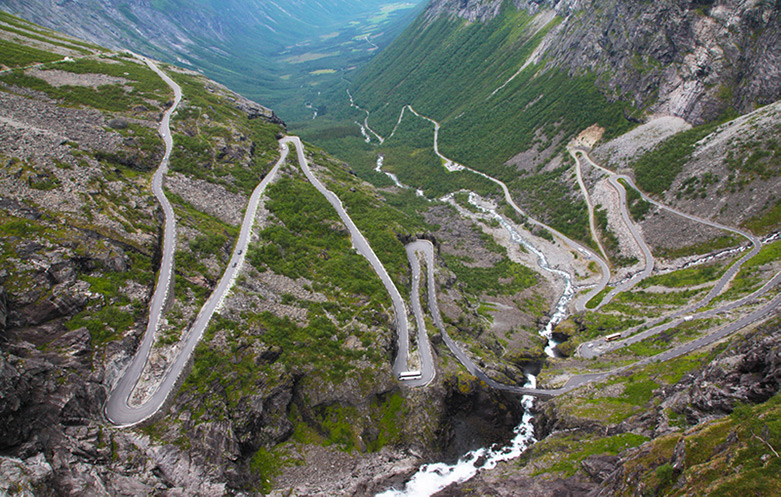 Trollstigen Road Description
Trollstigen road is tucked deep in Norway's mountains, and those that find it and drive it will understand why this is one of the most dramatic and dangerous roads in Europe. Its incline, narrow driving space, serpentines and low visibility make it a challenge for those that drive on it. The road features 11 hairpins and a steep 9% gradient, as well as a beautiful scenery. A fun fact is that each bend was named after the person who supervised the construction work on that section.
The route
This route is part of the Norwegian National Road 63 and has a total length of 55 km. It also connects Åndalsnes in Rauma and Valldal in Norddal, and it's the route we're suggesting you today. You can start your drive in Åndalsnes. For the 37,3 km you will drive, you will be able to enjoy 11 hairpin bends as the way snakes along the mountains. Driving on this path, you will also reach the highest point which is Stigrøra, with at an elevation of 858 meters. Let's not also forget that it will take you through a spectacular scenery with deep fjords and lush valleys.
The Trollstigen road is also known as "The Troll's Path". Its surface is covered with asphalt, but it's not in the best condition. The seasons when it's open starts from mid-May to October. The route is closed during late autumn and winter or when the access is not cleared of snow.
Even though it was widened in the past years, it still is narrow. It's forbidden to drive vehicles that are longer than 39 feet. It was opened in 1936, on the 31st of July, by King Haakon VII and it took eight years to build it. In 2005, it was included on UNESCO's World Heritage List, and nowadays this road attracts many tourists.
The scenery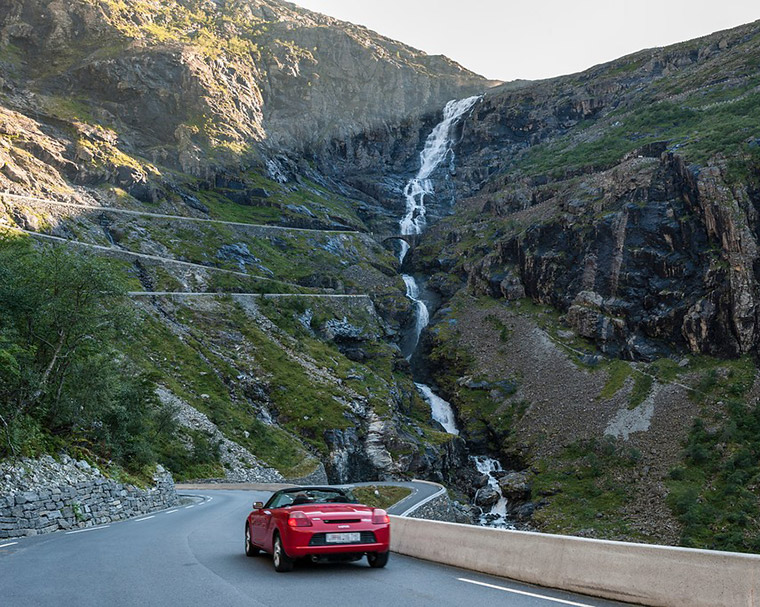 There is also a summit and a parking area where visitors can stop by to admire the views. From there, after a ten-minute walk, you will reach the viewing balcony that overlooks the winding road, as well as the Stigfossen Waterfall.
Trollstigen Road twists and climbs the mountains and offers an exceptional experience to those driving here. It's surrounded by high mountains that reach an altitude of over 1600 meters. Furthermore, the scenery here is second to none. You will overlook the mountainous terrain, waterfalls, fjords, tunnels, frozen lakes, lush valleys and so on. It's a treat to be in this place and admire the natural landscape from this impressive road.
Despite the beauty that surrounds it, Trollstigen Road can be a real challenge to drivers. Occasionally, rock falls can happen, and the narrow road doesn't leave you much space to pass. It has a steep incline, and the turns are very tight. Even so, it's a challenge that many accept and enjoy every minute of it.
Photo sources: https://www.lifeinnorway.net/trollstigen-norway/, https://www.fjordnorway.com/top-attractions/trollstigen, http://weird-fact-s.blogspot.com/2012/05/hair-raising-hairpin-bends-on.html
r