Facts
Location: Croatia
Length: 8,1 km
Built: 1962
Width: one lane
Surface: asphalt
Surface quality (out of 10): 5
Highest point: 168 m (551 ft)
Operating times: open all year
via Tunel Pitve
Route: from Zavala to Svirče
Tunel Pitve Road Description
Tunel Pitve is located in Croatia, on the Hvar Island, Jelsa district. It features a 1400 meters length and will make you feel as if you've entered into a mine while driving your car. What's also unique about this road that takes you through the tunnel is the amazing landscape waiting for you at the end of it. Just imagine going in a tunnel, driving for a while in the dark or artificial light and the coming out the other way and have a surprise. Must feel nice.
The tunnel was built in 1962 and has a length of 1,4 km, a width of 2,3 m and a 2,4 m height. It's not the best place for those suffering of claustrophobia as it's narrow and dark. Also, it's not in the best condition. But drivers looking for some diverse challenges will enjoy it.
As you enter it, you will be directed by the lights system, located at both entrances. They come into operation during the tourist season. Entering the tunnel, you will have to be careful if other cars are coming from the other direction. In this case, you will have to wait until the other car passes or the other way around since it's a narrow road you will be driving on.
Driving in the tunnel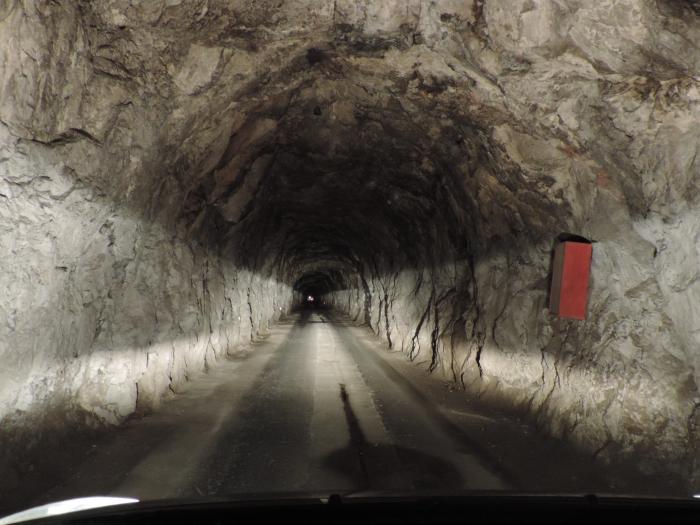 When driving the Tunel Pitve, you will also notice as the water seeps through the rock overhead. Moreover, sometimes it causes minor flooding problems.
There aren't any significant twists and turns while driving through the tunnel, but the fact that this is narrow and dark will give you enough thrill when going through it. You never know what comes out of the dark until there is some light reaching in. Also, the road surface is very poor, and it's patched up each year. The roughness of the path, as well as the humidity and poor visibility, make it a dangerous drive. That is why, bicycles, scooters and motorcycles are not supposed to go through it.
After exiting the tunnel Pitve, you will be impressed by the contrast. On your way, you will find a few picturesque villages and some beautiful beaches.
All in all, this road is a special one, and it's worth a drive if you're not scared of the darkness and narrow spaces. Plus, at the end of it, you will reach a spectacular scenery, specific to Croatia, a country worth visiting for its natural landscape and roads.
Photo sources: https://commons.wikimedia.org/wiki/File:Tunel_Pitve-Zavala_jug.jpg, http://wikimapia.org/street/17116259/pl/Tunel-Pitve-Zavala, https://ihvar.cz/zavala/info.html, https://www.ihvar.cz/mista/pitve/pitve.html
1 Review
[url=http://mewkid.net/when-is-xuxlya3/]Amoxicillin Without Prescription[/url] Amoxicillin Online hpm.pycs.roadstodrive.com.uga.ml http://mewkid.net/when-is-xuxlya3/
r