Facts
Location: United Kingdom
Length: 9,3 km (5,8 miles)
Width: 2 lanes
Surface: asphalt
Surface quality (out of 10): 7
Highest point: 383 m (1258 ft)
Operating times: open all year
via A6187
Route: from Hope to Sparrowpit

Winnats Pass Road Description
Are you looking for a drive that will show you the beauty of the English rural landscape and that will also give you the thrill of riding a particular road? Then, the Winnats Pass is the right choice. Located in the High Peak area of the Peak District, Derbyshire, England, this route is a tough climb with a significant gradient. Also, along the way, you will have the chance to slide on some exciting twists and turns. And let's not forget to mention the landscape. The classic British mountain scenery add up to the beauty of this drive. All these make this road a great choice.
This road will take you through a natural amphitheater. It features steep slopes and rock faces on both sides of the way. Moreover, the path is quite narrow and this can make it difficult for drivers to pass. Also, because of the high gradient that reached even 20%, you are more than likely to start feeling the smell of burning clutch as your car will struggle up the inclines. But don't worry, with some care, nothing will happen to it.
Driving on this route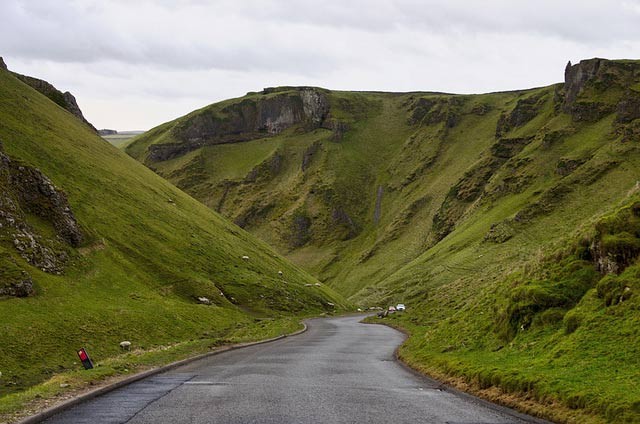 As you start the drive, the gradient is gentle as you leave the village. Soon after, it will increase steadily and reache 10%, in the middle of the journey. At the top of the Winnats Pass, there is a section where there is a gradient of 20%. It can be difficult for drivers, especially if they are going to fast or if they run of gears. So have this in mind before starting the drive.
As for the itinerary, you have two options. The journey can start in the town of Hope or in Sparrowpit. For the next 9 km, you will drive on a smooth road, asphalted, but steep and narrow. It's surrounded by towering limestone pinnacles and, while here, you can also see the Mam Tor mountain.
The road taking you through a natural amphitheater, with rock, faces on each side and steep slopes, is a sight to enjoy. The landscape surrounding you features many green valleys and the small towns you will pass by are picturesque and a perfect addition to this leisure drive.
Also, you won't feel the lack of excitement as you drive the Winnats Pass. As saying before, you might even feel the smell of the burning clutch as you struggle to climb the last part because the gradient is high around this portion of road. Overall, this is a climb to check out, and you can include it in a circuit around Mam Tor, and Edale.
Photo sources: https://www.stephenelliottphotography.co.uk/photo_15622150.html, https://cyclinguphill.com/winnats-pass/, https://www.atlasobscura.com/places/winnats-pass, https://www.britainallover.com/2013/09/winnats-pass-peak-district/
r